Is your computer T.O.V.A. compatible?
While our latest version of the Precision Test Environment (PTE) works with many more computers, some still have issues. This page summarizes the models and hardware we've tested.
Please understand that new computers with new, untested hardware are being sold all the time, and that manufacturer and model names are not always consistent.
What if my computer isn't listed?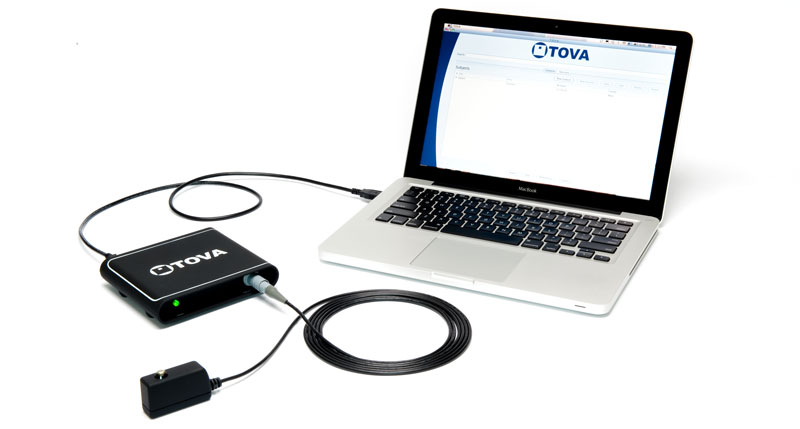 If your computer doesn't appear below, this:
Make sure it meets our basic system requirements.
Make sure that your computer's data is backed up.
Enter your T.O.V.A. serial number here to download the latest version of the software.
Install the software and configure it for PTE.
Test the PTE and plug in your T.O.V.A. flash drive to give us the most information.
Whether it works or not, please send us a support request to let us know.
This is a list of models and/or hardware that has been tested with the T.O.V.A. The PTE should work on recommended systems, though some may require special configuration, a T.O.V.A. flash drive (included), or an additional USB adapter (not included). All systems should still work with the EAV hardware setup.
Processors and graphics from 2020 or later, for example:


Apple M1 and M2 (2020 or later Macs)
Intel 11th-gen processors / Iris Xe Graphics ("Tiger Lake", "Rocket Lake")
Intel 12th-gen and newer processors ("Alder Lake", "Raptor Lake")
Intel Celeron N4500, N4505, N5100, N5105 ("Jasper Lake")
Intel Pentium Silver N6000, N6005 ("Jasper Lake")
AMD Ryzen 3 4300U, 5300U, 5425U, 7320U, and Ryzen 3 PRO 5450U
AMD Ryzen 5 4500U, 4600G, 4600H, 5500U, 5625U, 7520U, and Ryzen 5 PRO 4650, 5650U
AMD Ryzen 7 4700U, 4800U, 5700U, 5700X, 5800H, 5825U, and Ryzen 7 PRO 4750U

High-performance graphics cards, like NVidia
Intel Atom processors
Multiple screens
Wireless keyboards and mice
Recommended
Laptop, Laptop 2
Go
Pro 3, 4, 6, and model 1796
Book, Book 2
Not Recommended
Laptop 3, 4, and later, Laptop Studio
Go 2*, Go 3*
, Laptop Go
Pro 7, 7+, 8, 9,
X†
, and later
Book 3
Recommended
Most systems
(excluding hardware listed above in the unsupported hardware )
Models and reliability vary
* The Surface Go 2 and 3 do not provide accurate screen calibration and should not be used for visual T.O.V.A. testing.
†
Some Windows computers use an ARM processor, which is not supported by our software at all, even using the EAV setup. See 
system requirements
 for more information.
The Intel MacBook Air and MacBook Pro are popular choices. The MacBook, MacMini, and iMac should also work. For compatibility, check the year of manufacture in the Apple menu About This Mac. 
Newest

M1 and M2 processors

are not supported

Must disable T2 security chip to boot PTE
Limited support for other hardware
Recommended: Use the EAV setup instead
2016 - 2017 with USB-C ports
Most support the PTE
Audio may require a USB adapter (not included)
Should support the PTE
Some require the T.0.V.A. CD or flash drive (included)
iMacs will need a USB keyboard and/or mouse to use the PTE setup.
Use the EAV Setup as an alternative
Our EAV hardware setup works with virtually any modern Mac or Windows computer, though it requires an external VGA monitor.
How can we help you today?
Our team of experts are available to answer any of your T.O.V.A. questions.