Precision Test Environment (PTE) Hardware Setup
To maintain timing accuracy on modern computers, The TOVA Company created the Precision Test Environment (or PTE), a separate real-time operating system used exclusively for T.O.V.A. testing. Please refer to our System Requirements page for the minimum requirements and our PTE Compatibility page for a list of compatible and incompatible hardware. information on compatible computers for the PTE setup.
Basic (PTE) hardware setup:
Plug the T.O.V.A. microswitch into the T.O.V.A. USB device where it's labeled T.O.V.A. microswitch. Line up the arrows on the top of the connector with the top of the T.O.V.A. device and push it gently into the port. You do not need to twist or turn or squeeze in any way. (Watch the video on this page for a demonstration.)
Find a USB port on your computer. If your computer is less than ten years old, you should have many on the front, back, or even sides of your computer. They are labeled with this symbol:
Plug the flat end of the USB cable into the computer's USB port.  Note: Do not plug the USB cable into a USB hub. USB hubs will cause intermittent communication problems between the T.O.V.A. software and the T.O.V.A. USB device. USB hubs are not supported.

Plug the squarish end of the same USB cable into the T.O.V.A. USB device where it's labeled usb.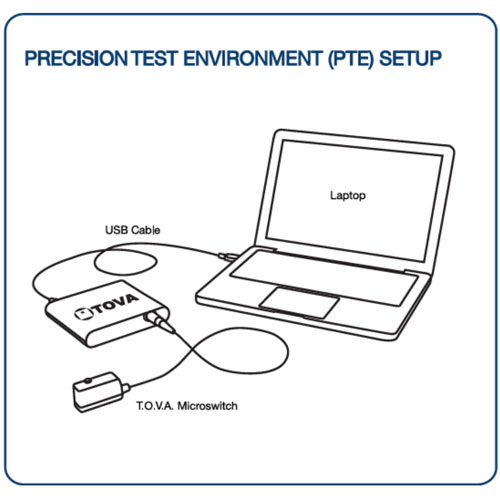 How to connect and disconnect the T.O.V.A. Microswitch:
How can we help you today?
Our team of experts are available to answer any of your T.O.V.A. questions.